Device description and supported dynamometers
DC1 Dyno Controller is a versatile solution designed to control multiple types of dynamometers. It's compatible with hub, engine and chassis dynos and it works with multiple types of dyno absorbers.
The controller is an all in one device, that combines PC type computer with operating system and dedicated software, and microcontroller system to control dyno and acquire data in real time.
Tasks performed by the controller:
Readout of dyno parameters and data logging signals from additional sensors and OBD
Generation of absorbers control signal
Control of auxiliary dyno devices such as fans etc.
Saving of all the data and later analysis
Option to extend controller capabilities with CAN-Bus connected devices.
Example supported dyno configurations:
Engine dyno – inertial and absorption
2WD, 4WD inertial chassis dyno
2WD, 4WD absorption chassis dyno with up to 4 separately controlled brakes
2WD hub dyno
4WD hub dyno (DC1E4 only)
DC1 can make use of any absorber system that can be controlled with:
Digital PWM signal
Direct PWM control with current up to 3A
0-10V analog signal
CAN bus message
Most popular absorption units are:
Eddy current absorber – fast and affordable
Water cooled eddy current absorber – fast and suitable for long term tests on high load
Water brake absorber – slow but capable of high torque for long time tests
Note on modern traction control and axis synchronization:
The DC1 uses connected absorbers to synchronize speed on all vehicle wheels, however modern traction control systems are so sensitive to any speed difference that the best way to be sure that TC is not activated is to use mechanical axle synchronization. The AC motors synchronizing speed on axles is another solution, but it is expensive and not tested with DC1 yet.
General specification
Power supply
100-240 VAC, 50-60Hz, 1.5A, IEC C14 socket
Ambient temperature
−20°C – 50°C
Ambient humidity
0%-95% non condensing
Base computer
4-core Cortex A72 1,5GHz
4GB RAM LPDDR4
Data memory 32GB 100MB/s
Microcontroller
32-bit RISC 64MHz
Dimensions
25cm x 12cm x 4.5cm
Mass
607g
Inputs / outputs
WiFi IEEE 802.11b/g/n/ac (2,4/5 GHz)
Bluetooth 5.0 (Low Energy (BLE))
Gigabit Ethernet
2 x USB 2.0
2 x USB 3.0
2 x micro HDMI
Audio mini jack
Ambient conditions sensor (temperature, pressure, humidity)
2 x CAN-BUS 2.0B
Power outputs 24V, 12V, 5V(2A) with total capacity of 20W
2 analog outputs 0-10V
4 low side PWM outputs 3A 40V
4 additional low side outputs 3A 40V
4 two-terminal relay outputs 250V 16A
DC1: 2 frequency inputs for axle speed up to 15kHz – sensors with toothed wheel
DC1E4: 4 frequency inputs for axle speed up to 10Mhz – sensors with toothed wheel and encoders with high signal count per rotation
Engine speed input for hall, VR, inductive or capacitive clamp sensors up to 15kHz
4 load cell analog inputs 0-5V (for amplified signal)
6 general purpose analog inputs 0-5V
8 high precision analog inputs 0-5V for thermocouples or other analog signals
4 physical switch inputs
PC typical interfaces
The controller is equipped with typical interfaces, found in PC type computers, such as USB, Ethernet, micro HDMI. These allow to connect standard input / output devices such as mouse, keyboard, printer, display and internet connection. Wireless interfaces such as WiFi and Bluetooth are also available.
Bluetooth enables wireless connection with vehicle OBD system, for readout of engine parameters, with use of optional interface.
Ambient sensor and power correction
Built in precise Bosch ambient sensor is used to measure temperature, pressure and humidity which can be used to calculate corrected engine power correction. Available correction standards are:
DIN 70020
EC 95-1
ISO 1585
JIS D1001
SAE J1349
Sensor specification:
Humidity: 0% ÷ 100% ±3%
Pressure: 300 ÷ 1100hPa ±1.7hPa
Temperature: -40 ÷ 85°C ±1.25°C
All power correction parameters can be sourced from external sensors. If the DC1 is installed in control cabinet with elevated temperature, the temperature for power correction can be sourced from:
external sensor connected to analog input
OBD
CAN bus
CAN-Bus interface
The controller is equipped with 2 independent CAN-Bus 2.0B interfaces, with transmission speed up to 1Mbps, compatible with ISO-11898-2 and ISO-11898-5.
Interfaces are equipped with software controlled 120Ohm terminating resistor.
CAN-Bus is routed with one twisted pair of wires and allows to connect many devices in parallel on one bus.
Example devices that can connected to the controller via CAN-Bus:
Additional actuator drivers, H-bridges for servo motor control
Additional input extenders – wide-band oxygen sensor controller
Automotive displays such as Ecumaster ADU
Engine control units such as Ecumaster EMU Black, which can be used to read engine operation parameters or to control throttle opening
Power supply outputs
3 power supply outputs: 24V, 12V, 5V (2A), capable of total 20W power, enable to connect external modules with low power requirements.
Power outputs can be used to supply external relays and control them with low side outputs.
Analog outputs
2 analog outputs with 0-10V range are intended to control auxiliary dyno devices requiring analog signal.
Can be used to control dyno absorber in retrofit applications.
Output impedance: 1kOhm
Resolution: 12bit
Low side and relay outputs
The controller is equipped with 8 low side outputs, capable of connecting terminal to ground.
Maximum switched voltage: 40V
Maximum current: 3A continuous, 12A peak
Maximum inductive load switching energy: 50mJ
Built in 10kOhm pull-up resistor to +12V for digital signal generation
Short circuit and overload protected
4 of these outputs have hardware PWM generation functionality and can generate PWM signal with frequency from 0.06Hz to 50kHz and resolution of 20bit. PWM outputs are capable of controlling:
eddy current brakes (with use of external BD1 brake power supply)
solenoid valves
servo motors compatible with RC pulse signal
power modulation of devices such as cooling fans etc.
Remaining 4 low side outputs and 4 relay outputs are controlled with programmable logic and allow to power auxiliary devices according to operating conditions or user input. Example use cases are:
automatic fan turn on above preset engine speed
starter motor control from dyno keyboard
Relay output capacity is 250V 16A.
Frequency inputs
The DC1 controller is equipped with 3 frequency inputs capable of reading frequency up to 15kHz.
The DC1E4 is an upgraded controller version that has 5 frequency inputs and a capability to read high frequency signals up to 10Mhz
| | DC1 | DC1E4 |
| --- | --- | --- |
| Frequency input count for shaft speed signal | 2 | 4 |
| Additional input count for engine speed | 1 | 1 |
| Supported signal frequency ranges | 15mHz-15kHz | 15mHz-15kHz, 10kHz – 10Mhz |
| Supported signal types | Signal from toothed wheel | Signal from toothed wheel, signal from encoder with high pulse count |
Shaft speed signal inputs specification
Maximum input signal voltage: 15V
Signal threshold voltage: 2.5V
Hysteresis: 0.6 – 1.2V

Pulse capture mode frequency range: 15mHz – 15kHz
Pulse capture mode resolution: 31.25ns
Pulse capture mode accuracy: 0.003%
Pulse capture mode precision @ 1kHz: 0.0032%
Pulse capture mode precision @ 15kHz: 0.045%

Pulse count mode frequency range: 10kHz – 10Mhz
Pulse count mode sampling frequency: 1000Hz
Pulse count mode accuracy: 0.003%
Pulse count mode precision = Sampling frequency / Input frequency
Pulse count mode precision @1MHz: 0.1%
The engine input allows to read signal from Hall, VR, inductive or capacitive clamp sensors. It can be used to read engine speed in cases where the speed is not in constant relation with dyno roller or shaft speed.
Input voltage up to 50VAC sine, 250V peak
Differential input
Adaptive signal arming threshold
Pulse capture mode frequency range: 15mHz – 15kHz
Pulse capture mode resolution: 31.25ns
Analog inputs
The device has 10 analog inputs with 0-5V range. 4 of those inputs are reserved for amplified load cell signal. Other 6 inputs can be used to connect any additional sensor.
Maximum input voltage: 30V
Measurement range: 0-5V
Resolution: 11bit (2.5mV)
Sampling frequency: 500Hz
Measurement accuracy: 1% @ 0°C ÷ 40°C
Measurement precision: 0.3% @ 0°C ÷ 40°C
Load cell cannot be directly connected to analog input. Load cell signal must be amplified. It can be done with amplifier build in BD1 brake power supply or stand alone LCA1 amplifier.
High precision analog inputs
The device has 4 differential pairs or high precision analog inputs. These inputs can be used for direct thermocouple connection or for connection of any sensor giving signal in 0-5V range. Every pair allows to measure signal in differential or single-ended mode. The single-ended mode allow connection of 8 sensors total.
Resolution: 16bit (3.9μV – 94μV)
Sampling frequency: 10Hz
Voltage ranges: 0-256mV to 0-5V
Measurement accuracy: 0.16% @ 0°C ÷ 40°C
Measurement precision: 0.1% @ 0°C ÷ 40°C
Switch inputs
The device has 4 inputs for switch connection. Switch can be used to activate software functions or controller outputs.
Safety precautions
Device should be fixed on hard, flat surface in well ventilated area.
Device must not be exposed to vibration.
Device air flow must not be obstructed.
No foreign objects should be inserted into the device.
Life threatening, high voltages are present in the device. Make sure that it is disconnected from mains power supply before doing maintenance work.
Device is intended for installation by qualified personnel.
Device should be protected from access by unauthorized personnel.
Device should be protected from moisture. It mustn't be used when wet.
Device mustn't be powered without assembled enclosure.
Device installation doesn't require enclosure disassembly.
If the device is not working correctly, makes disturbing noises, emits burning smell, it should be immediately powered down. Please contact the manufacturer for repair.
Device power supply must be protected with 2Amp circuit breaker.
Technical drawings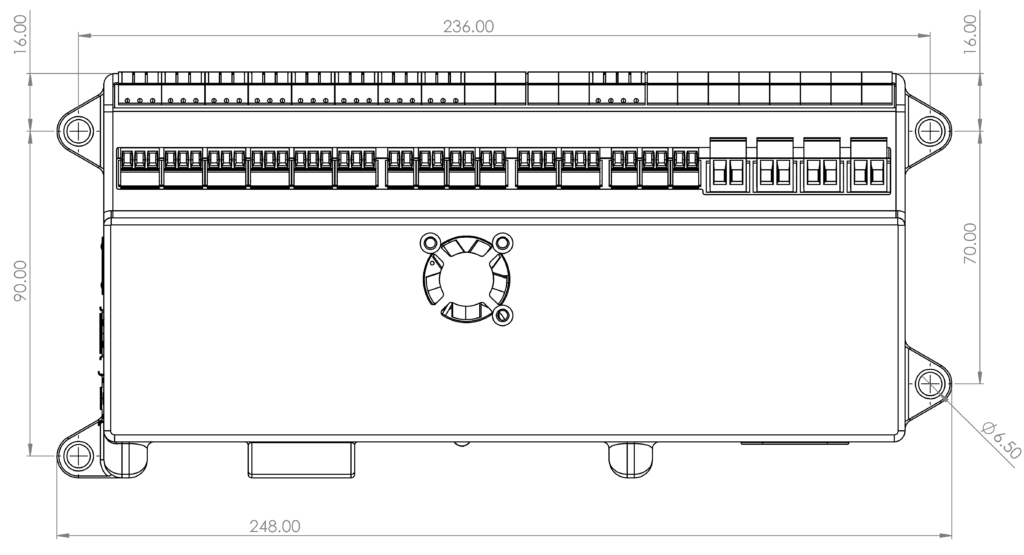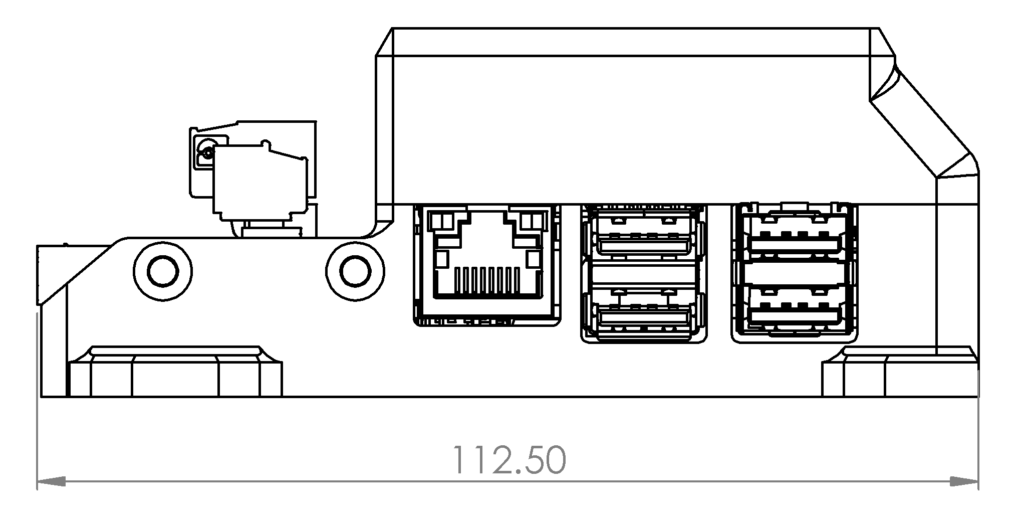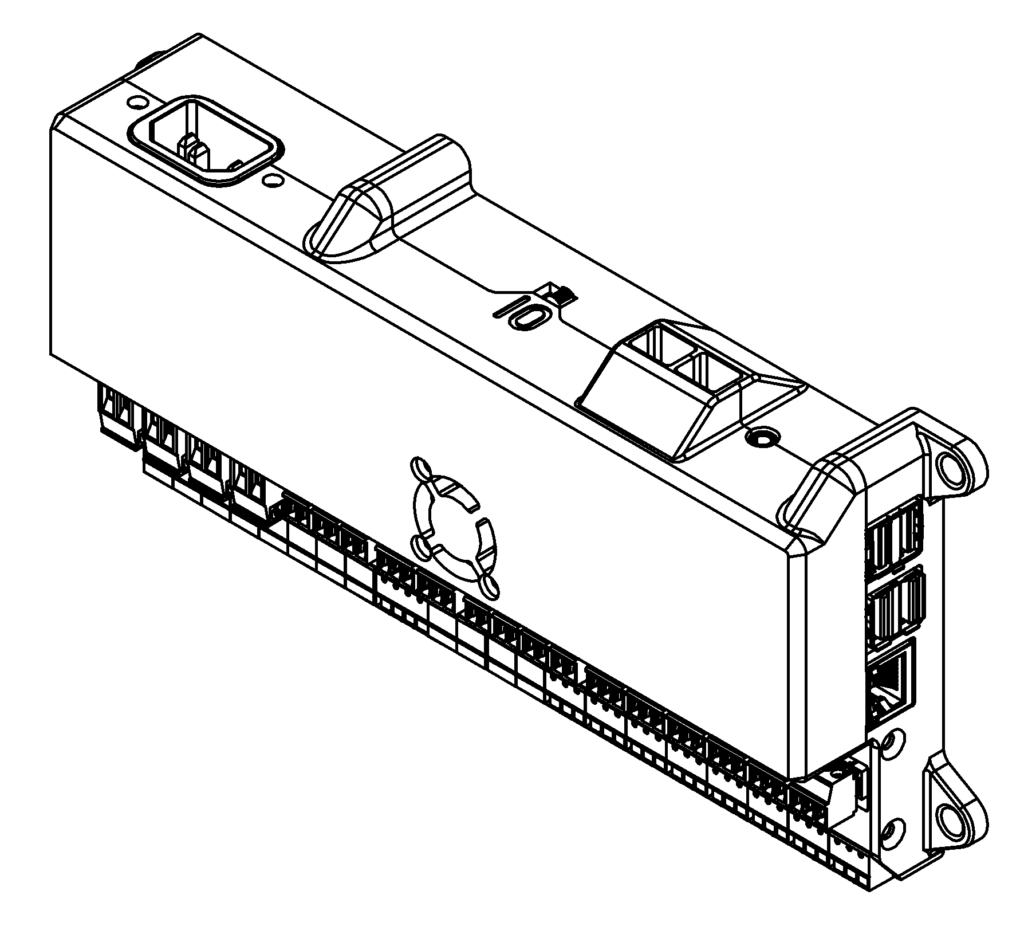 Pinout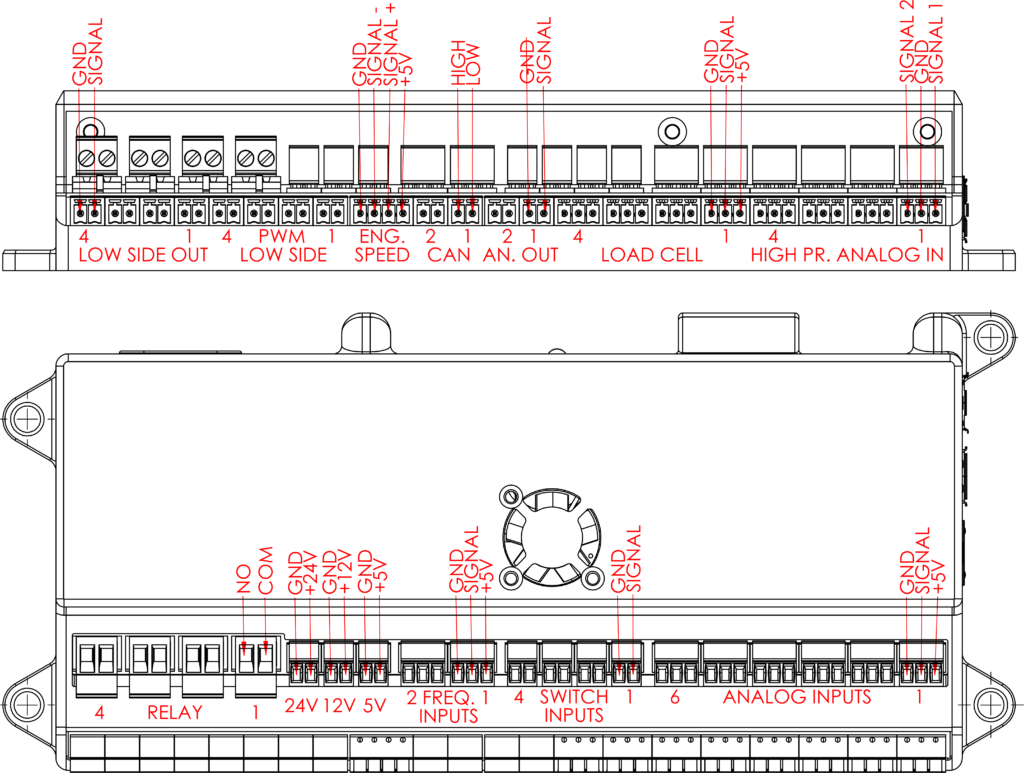 Warranty
Producer guarantees that the device is manufactured according to accepted craftsmanship practices and it meets the applicable standards. Correct device operation is guaranteed for 24 month period starting from date of purchase.
Guarantee does not cover damages caused by improper installation, usage or non compliance with instruction manual.
Device is intended for installation by qualified personnel. Device final performance and suitability for particular application is dependent on the user and thus it is not guaranteed by the manufacturer.
These specifications are subject to change without notice.